You are here
News & Events
Top Stories
April 30th, 2019
"Heating, ventilation, and air conditioning. How can you make that exciting? That's the real question." Facing the...
Read More ➝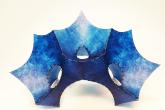 April 18th, 2019
An ultra light-weight structure project by a group of interdiscplary design students from Civil Engineering,...
Read More ➝
April 4th, 2019
A new YouTube channel run by UL Lafayette Industrial Design Students has launched a new interview series called "The...
Read More ➝
View All News
Upcoming Events