Design Day Spring 2019
Saturday, March 23, 2019 -

8:00am

to

12:00pm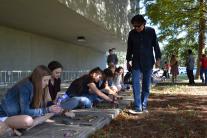 The School of Architecture and Design at UL Lafayette presents Design Day once every semester for high school juniors and seniors who are interested in majoring in interior design, industrial design, or architecture. Design Day gives you a chance to experience what design school will be like as a college student.
Design Day is dedicated to recreating the everyday studio environment in the School of Architecture and Design, so you can get a feel for our dynamic and unique teaching and learning process. You'll get a chance to meet faculty members and current students and learn what a major and career in design is really like.
Our next Design Day will be on Saturday, March 23, 2019, 8am-12pm.
We will also have a more informal open studio the morning of Friday, March 22.
If you have any questions, contact us at soad@louisiana.edu
Type:
Orientation
Other
Tours/Previews
Primary sponsor:
Office of Admissions
School of Architecture and Design
Room name/number:
We will meet in the lobby to sign in and begin the day.
Directions:
Visitor parking for Design Day will be available in the Girard Park Circle Parking Garage, which is accessible from Girard Park Drive (see this link for a map, there is an arrow pointing it out.) Visitor parking is free on weekends. This parking garage is located right next to our building, Joel L. Fletcher Hall, where the Design Day activities will take place. Student volunteers will be stationed around the building a little early to help direct you to the lobby of the building where you will sign in. Registration/Sign in will begin at 8am, and we will begin our Design Day activities at 8:30am.
Event target audience:
General public
Parents
Visitors
Event open to:
General public
Parents
Visitors
Ticket information:
Though we prefer that you register before the event so we can get a headcount and plan accordingly, you are still allowed to participate without registering beforehand. See link above.