Building Institute students work with Habitat for Humanity
Wed, 07/30/2014 - 3:26pm
This past fall, spring and summer, a team of five graduate students designed the XYZ House for a new homeowner, Ms. Wanda, for Habitat for Humanity.  The house was originally designed for a site in a new pocket neighborhood being developed by Habitat and planned by our architecture students. 
After delays in the approval of the new neighborhood, the XYZ House was redesigned and is being built by students in the summer and fall of 2014.  Gjertson writes in his new book that the goals of the Habitat house are similar to the other Building Institute projects, "…the aim is to elevate sustainable design in affordable house models albeit with a much more modest budget."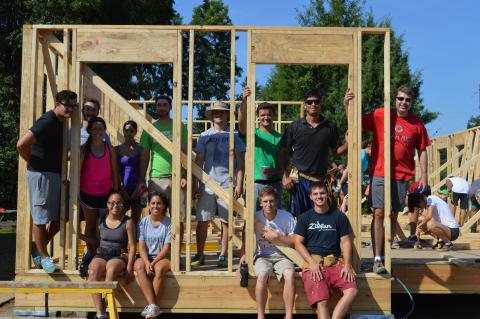 Next, Building Institute students will design and build a pavilion in a new art park in Lafayette, La. The pavilion will utilize a gridshell structure which some have called the "prima donna" of all structural systems because of its extreme lightness and efficiency. This project is partially funded through a Canadian grant as a part of a North American Design/Build Exchange program. During summer 2014, several UL Lafayette architecture students will join students from the University of North Carolina Charlotte, the University of Arizona, and Dalhousie University in Nova Scotia to build a larger gridshell structure.