Elise Baranco, UL Lafayette American Institute of Architects Louisiana Chapter 2023 Celebrate Architecture Scholarship recipient
Mon, 04/03/2023 - 8:17am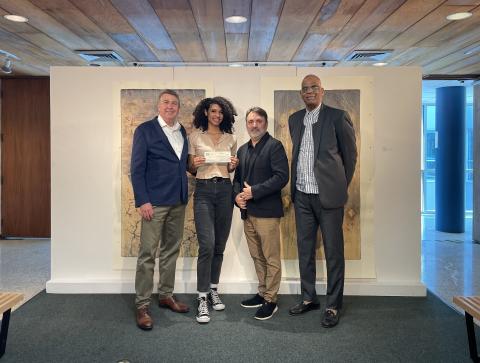 Senior B.S. Architectural Studies student, Elise Baranco was recognized on Tuesday, 28 March as the UL Lafayette American Institute of Architects Louisiana Chapter 2023 Celebrate Architecture Scholarship recipient. 
The AIA Louisiana Celebrate Architecture Scholarship recognizes and rewards Louisiana architecture students who display excellence in their undergraduate studies and seeks to demonstrate to students the value of engagement with AIA Louisiana and the AIA.
In Baranco's application she wrote about how her architectural education at UL Lafayette has empowered her to make a significant and lasting impact on the profession. Baranco's collaborative work with the non-profit DeafSpace organization over the last year grew her understanding of the professional and ethical responsibilities of inclusive design.
Congratulations Elise Baranco on this award recognition and thank you AIA Louisiana for your continued support of the UL Lafayette School of Architecture and Design students.
Pictured - left to right: Professor Geoff Gjertson, AIA; Elise Baranco; Pierre Theriot, AIA, Scholarship Committee Member; College of the Arts Dean Daryl Moore, MFA FRSA